A poetic seminar was held on 22 January 2017 by poetry in Nottingham, a city known as City of Literature and Kalachar. This occasion was in honor of the departure of Birmingham Councilor General Mr. J.K. Sharma. Chief guest Mr. Sharma and his wife Mrs. Sunita Jee, Lord Mayor of Nottingham and dignitaries were present.
Poetry was read in other Indian languages along with Hindi. Jay welcomed and performed the fireworks. Ravi convinced his presentation, while Fizzazana presented Ghazal in Urdu. Jai's poem 'Chal Nikal Chane Tere Jahan Gulastaan' made the farewell atmosphere even worse.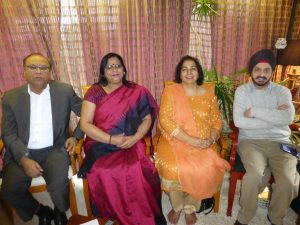 Jugnu's poem 'When the country go' reminded the people of the country's soil, while the 'tea cup' of Harminder Nagi was also praised. Sandeep Dhir also recited excellent Hindi poetry.
Overall, a pleasant atmosphere was created. Chief Guest Mr. G.K. Sharma organized this event and the hospitality of Dr. Verma appreciated. Finally, Harminder Dua gave a vote of thanks. The conference concluded with a lunch of vegetarian lunch under the supervision of Jyoti, Kusum and Alison.