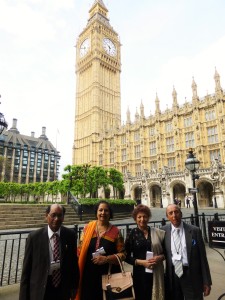 Dr Kunwar Bechain is one of India's best known and well-loved Geet Kar and Ghazal Kar. His contribution to Indian culture is invaluable; his poetry spanning genres and form. Perhaps best known for his mastery of ghazal, haiku and dohe, he has attended, and often been part of, over 5,000 Kavi Samellans in India and around the world. An inspiration to many younger writers, he is often the subject of PhDs in India, and it is seen as a proud achievement to have him bless your book with a foreword.
When Jai Verma, chair of Nottingham's long-running Kavya Rang Multilingual Poetry Group was approached by Derby Libraries to help curate an Indian event for Pear Tree Libraries centenary celebration, he was the first choice.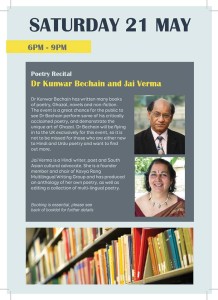 Fortune smiled as Dr Bechain confirmed he would be able to fly to the UK, and the events were announced, and were quickly booked up. Derby doesn't have such a strong Hindi and Urdu poetry group compared to Nottingham, so it was hoped that the events would encourage poets and fans of poetry to come together. The popularity of the events suggests that there is a strong interest for this.
Bringing Kavya Rang to Derby was an attempt to show how this is done. The group has regular, well-attended meetings and poetry readings, and works with a wide range of institutions in Nottinghamshire to share its love of words. Nottingham City and County Councils, Bromley House Library, Nottingham Writer's Studio, Nottingham Hindu Temple, Writing East Midlands and many more have played host to the group. It formed part of the successful bid to make Nottingham a UNESCO City of Literature, and has been an integral part of the Nottingham Festival of Words, and Nottingham Poetry Festival since both events were launched. Its reach is not just local: the members frequently travel the world espousing the group's work.
Flying into Heathrow, Doctor Bechain's first engagement was with Nottingham's Lord Mayor, Cllr. Mohammed Saghir, at his Nottingham Council House rooms, where they chatted over tea. What was expected to be a short visit lasted much longer, as the two were lost in talk of their mutual love of poetry.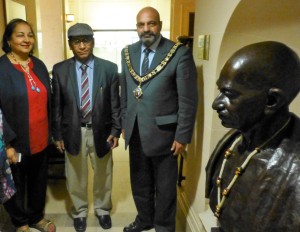 The following day saw a trip back to London as guests of Vatayan Poetry Group, where he was presented with the Vatayan Shikhar Samman (lifetime achievement) at the House of Lords. Jai introduced him on to stage to receive this, and he recited Hindi poetry as the award was presented.
A day of rest, then on Saturday 21st, Dr Bechain visited the Pear Tree library in Derby, celebrating its Centenary with a special programme of events. He read poetry to a full house, headlining after local poets had performed. A fine selection of poetry was read, in both Hindi and Urdu. Joining him on stage was Jai, who curated and introduced the programme; Jas Bilkhu, former High Sheriff of Nottingham, and now Deputy Lieutenant of Nottingham; and Jugnu Mahajan, Secretary of Kavya Rang, who anchored the programme. Ravi Mahajan sang Sarswati Vandna, and thanked all in attendance. An evening dinner was arranged and enjoyed, courtesy of Sanjay Saxena.
Sunday was a full day:  starting at 9.30am Dr Bechain ran a poetry workshop, teaching the arts of Haiku, Geet, Doha, Ghazal, Free Verse and other forms of poetry, right through to the early evening. Despite the length of the event, Dr Bechain's energy would be impressive in a man a fraction of his age, his enthusiasm for sharing his knowledge never waned. Dr Bechain and Jai then appeared on BBC Radio Nottingham for their Sunday evening show, talking poetry live to listeners.
Monday, after a trip to Grantham to see Woolsthorpe Manor, Isaac Newton's former home, he again took the stage to a full house at Nottingham's New Art Exchange, where he performed his work to a rapt audience. Nottingham City of Literature came down to watch the event, as did the Mayor: n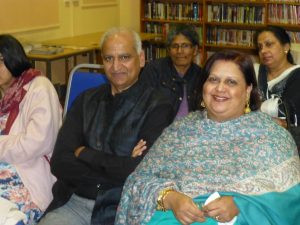 ow a firm fan of Dr Bechain. This was followed by a sumptuous feast at Mem-Saab restaurant.